Hey guys, this blog post is going to be about Giethoorn - a beautiful, car-free water village in Netherlands. It was about an hour drive from my boyfriend's house, and I'm so glad that he brought me here. It offers a different kind of beauty - nothing like the famous Amsterdam canals nor the Paris Eiffel Tower. Giethoorn's beauty is natural, serene and calming.
Upon reaching Giethoorn, a rainbow appeared to greet us. And I feel like only in places like this you are able to see a full rainbow right in front of you, without being blocked by any skyscrapers.
What's there to see in Giethoorn? Picturesque scenery of the nature, cosy thatched cottages, people boating through the canals
and you will also be able to spot some ducks swimming gracefully in pairs.
The scenery looks like it's straight out of a fairytale.
There are organised boat tours, however, you can also rent a small electric boat to enjoy the scenery.
Away from the hustle and bustle in the city, Giethoorn is a perfect destination if you want to find peace and offers you great relaxation.
There are also a few restaurants and cafes in this village so that you can take a break while enjoying some local delights. We ordered a Dutch-styled pancake and it reminds me of Roti Canai hahaha!
Surrounding by lush nature, Giethoorn just looks like a dream, a fairytale that drifts away from reality.
Hey guys!! Today I'm finally going to share with y'all my 30-day challenge with
Marie France
! Just in case you didn't know, I visited Marie France and signed up for their
30 Days Challenge
back in July this year. The reason why I joined this program is because I realised that I have gained so much weight from my previous lifestyle - constantly eating out but not working out. There was a period that I felt insecure to wear shorts because I felt uncomfortable and wasn't confident with the way my thighs looked. Everyone has his own insecurities, and my tummy and thighs were my main concern.
What is the 30 Days Challenge?
It's a 30-day program that promotes healthy lifestyle and helps you in achieving your wellness goals through advanced treatment programmes, supported with customised nutritional plans and lifestyle advice from Marie France's wellness experts that caters to the various phases of your slimming journey.
How does the Marie France 30 Days Challenge work?
The 30 Days Challenge consists of 8 treatment sessions, 3 customised nutritional plans, 2 body measurements and 8 body fat analysis worth RM3930.
The challenge is divided into 4 weeks, and each week has different programs and nutritional plans.
WEEK 1 - DETOX
Reduce water retention and eliminate fat-stored toxins. Detoxification also helps to boost immunity, promotes anti-ageing benefits, as well as improves skin texture and appearance.
During the first week of this program, the nutritionist measured my body fat and customised a detox meal plan for me. And there, my 30 days challenge has officially commenced!
I was also given the survival kit, which consists of a pedometer watch (which helps me to keep track of my walking steps, distance, calories burned
, etc), a Dri Fit shirt (so comfortable and allows my body to "breathe" when I work out), a RM100 Treatment Rebate Voucher*, and a RM50 Product Rebate Voucher*!
To be honest, I was pretty nervous to start the program because the idea of following a nutritional meal plan and changing my eating habits sounded a bit intimidating for me. But I told myself, if not now, then when?! I started eating healthy and avoided oily and unhealthy food such as fast food, fried food, etc. During the detox week, I was told to avoid drinking coffee as well. DETOX MODE ON!
Also, I visited Marie France twice a week for my detox treatment sessions! During the detox treatment sessions, I did the machine fat burning on my tummy and thighs, as well as some treatments involving the infrared technology.
WEEK 2 & 3 - ACTIVATE
The 2nd and 3rd week is about boosting your body's metabolism and blood circulation to expedite fat breaking process and cellulite reduction.
Moving into the 2nd and 3rd week of the program, I was given a new nutritional plan. Honestly, the meal plan was not as bad as what I thought it would be. I was allowed to drink black coffee, indulge in my favourite roasted chicken, grilled fish and even dessert bowls. It proved that healthy eating doesn't mean that you need to give up food that you love!
Also, I started buying more greek yoghurt and honestly this is really my favourite snack! (Who says snacks can't be healthy? Hehehe)
And for dinner, I like to make myself a plate of grilled chicken breast (cooked with olive oil) accompanied with some broccoli and carrots! Frankly, it's really easy to make, delicious and healthy!
Apart from changing my eating habits, I also never missed my treatment sessions in Marie France. In week 2 and 3, I was given the activating treatments - such as body scrubbing, body wrapping and blanket heating, which help me to sweat more and reduce cellulite as well as fluid retention. Every time after I have done these treatments, I felt as if my body became lighter and less bloated!
WEEK 4 - FAT BURNING
Combined with high intensity treatments, ampoules and machines to boost the fat burning process, effectively get rid of unwanted fats deep below the skin surface in a shorter time.
Here comes the last week of the 30-day challenge, and how did I feel? I honestly felt better and happier with my new lifestyle!! I felt one step closer to reaching my wellness goals.
When I eat out, I always order food like chicken breast and salad!
During week 4, Marie France targets on my concerned areas by combining high intensity treatments such as the Venus Freeze treatment, ampoules and machines to boost the fat burning process!
FINAL RESULTS?
As you can see from the body fat analysis, I started with 43.4kg and lost 1.4kg as a result. I was delighted with the outcome as I lost 2 inches around my thigh area!
At the end of this program, I realised that it has changed about how
I feel about myself, mentally, physically and spiritually
. I like that my lifestyle has become so much healthier and that it made me feel
happier
and more confident.
To be honest, taking control of your own wellbeing such as your lifestyle and eating habits can really make a difference! I would say that the biggest key learning outcome from joining this program is learning how to be discipline and responsible for my own wellbeing. I adopted a healthier lifestyle and eating habit, and never skipped a treatment session.
Did the treatment sessions really help?
I would say that they definitely helped in speeding up the process, but they are not something that you should solely depend on!
Thanks Marie France for inspiring me to change my lifestyle through this 30-day challenge. Now are you up for this challenge?
They are currently having a promotion and you only have to pay RM699 for the entire package! Head over to their website for more information: https://www.mariefrance.com.my/30-days-challenge/.
BY THE WAY, Marie France Bodyline and I are giving away a FREE treatment worth RM487 each to 50 winners. Yes, there will be a FREE makeover session for FIFTY OF YOU.
Just comment "PICK ME" below my blog post and fill in this form - http://bit.ly/2jMp80K. Winners will be selected randomly and contacted by Marie France Bodyline by 29th November.
Since I was a kid, I had always been dreaming to visit Europe someday in my life.
At the age of 22, I made dream come true, with my own hard-earned money. I am not sure about you, but being able to visit Europe has always been a huge thing for me (because it could or would cost a bomb since I'm not sponsored by anyone lol). I have never visited any countries in Europe before and it felt so surreal that I'm currently typing this blog post here in Netherlands. I booked my flight tickets to London in June this year, and even tagged my mom along. Actually if it wasn't for my LDR-boyfriend (who resides in Netherlands), I wouldn't have visited Europe this soon haha!
There's something I really wanna say though - planning for Europe trip is NOT EASY at all. It stressed me out so much because I had such a hard time planning for intercity trips. I was so unsure of everything (such as the travelling date / time) and I was like fxxk it I'm just going to go with the flow (which turned out to be the worst thing ever because I spent so much unnecessary money on last-minute flights). To be honest, my planning for this trip was really bad, so I'm sorry that I wouldn't be able to share with you guys a comprehensive itinerary this time! :(
However, I will include pictures of the places I'd been to during my trip and hopefully you guys will enjoy them!
After meeting up with my boyfriend and his cousin, we headed to Oxford street via the underground train. Transportation in London is really convenient and easy (just use Google Maps to navigate around yo). Oxford street is a popular shopping district in London, with more than 300 shops including designer outlets, department stores (Selfridges is a really popular one in London), restaurants, etc.
Mandatory shot with the iconic red telephone booth. :P
Outfit details
Bakerboy hat - Forever 21
Pink jacket - Room8008
Rosewood sweater - Forever 21
Jeans - Bershka
Shoes - Gucci
TOPSHOP
The TOMMY HILFIGER collection in Urban Outfitters is omg.
We had lunch in a random restaurant in Oxford street and this chicken mushroom pie was not bad, but damn, £20 just for one chicken mushroom pie is a bit too expensive. T__T
I've seen soooo many pictures of this beautiful cafe on Instagram and I told myself that I MUST visit this cafe when I go to London. I couldn't help but squealed in excitement upon seeing this cafe right in front of me. Painted in baby pink, the entrance of this cafe definitely wins every girl's heart with its floral decoration.
We were lucky that we got a table outside (as it's a Insta-worthy spot lol). We ordered a pot of Earl Grey and Orange tea (which was really, really good) (£4.95 for two pax) and a Red Velvet cupcake (£5).
Always the happiest reuniting with this LDR bf.
#3 SKETCH (cafe)
Actually, I went to this cafe but couldn't try their food as we didn't make any reservation (super sad!!) So I just asked them whether I could go in just to take a picture lolol. Indeed, the interior looks stunning and artist-conceived. Online reservation as well as their menu is available on their
website
so make sure you book a table before you go to avoid disappointment (like me).
#4 LONDON CITY SIGHTSEEING TOUR: HOP-ON, HOP-OFF BUS TOUR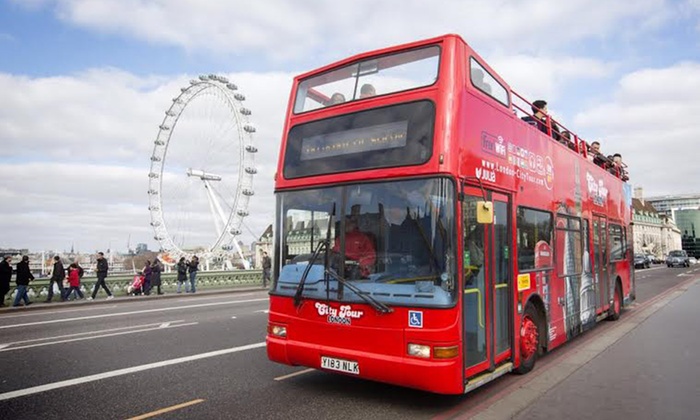 This is how the double-decker bus looks like! Image credits to Google as I couldn't take any pictures of the bus with the rainy weather! :(

Before my trip to London, I booked
London City Sightseeing Tour: Hop-on, Hop-off bus tour
from
isango!
Conducted on an open-topped double-decker bu
s,
this bus tour allows you to explore London in an interesting and educative way (as live commentary is offered on the bus) and visit major attractions in London such as Big Ben, London Bridge, Trafalgar Street, Buckingham Palace, etc and save on tubes and taxis! You can just hop on and off the bus at the well-placed bus stops and visit attractions of your choice. Besides, this package also includes a Hop-on, hop-off Thames Cruise and 3 walking tours!! Sadly, we didn't get to go on the Thames Cruise as it was raining. :( Nonetheless, I think this bus ticket is pretty worth it if you are visiting London for the first time! Check out isango for other London bus tours!
#5 BIG BEN
Honestly, the weather on our 2nd day in London SUCKED. The sky was so grey and gloomy and it was raining all day. How depressing! And to make things worse, the Big Ben was under renovation when I was there omg! I was rather sad because I couldn't take any nice pictures due to the bad weather. :(
#6 LONDON EYE
OK not gonna lie but this picture is edited like shit ok.
Gave up editing every picture so here's a picture of the grey sky.
London weather is the type of weather that you would still feel cold after wearing three thick layers, and it's not even winter yet!
Outfit details Hat - Forever 21
Jacket - Forever 21
Sweater - Forever 21
Jeans - Zara
Boots - Forever 21
#7 TOWER BRIDGE
After visiting London Eye, we hopped on the bus again and headed to the Tower Bridge. The Tower Bridge and London Bridge are actually two different bridges! Tower Bridge was built in 1894 and nope, it has never fallen down like the London Bridge 😂.
#8 BURGER & LOBSTER
I have heard so many positive comments about Burger & Lobster, and I finally got to try it myself in London!! There are several branches in London, and surprisingly, we got a table without having to queue at all.
For £23, you get 1 pound of lobster, steamed or grilled with a choice of clarified butter or B&L's famous lemon & garlic butter. All dishes come with chips and salad too. It's pretty decently-priced I would say.
We ordered the grilled lobster with lemon & garlic butter! To be honest, I think it was not bad, but not impressive enough for me to pay a second visit.

Honestly, we didn't get to visit many places in London this time due to the lack of time. We only stayed in London for 3 days, and on the third day, we had to catch an early flight to Netherlands so we didn't get to visit any place on that day. There are so many places that I want to visit in London, like Nottinghill, Shoreditch, Spitalfields, etc.

London, I will be back!

P.S. Comment and tell me where your favourite place is in London!