Event: 王力宏<火力全开>大马演唱会 Lee Hom's Music man II Concert LIVE In Malaysia
Date: 3 March 2012
Venue: Stadium Merdeka
Time: 8.00pm-11.00pm
It just feels like yesterday I was in his concert! I guess that the impact of the concert on me is kinda strong huh. Thanks Qiaoxuan for the last minute ticket! Before the concert, we were actually stuck in a dilemma of choosing whether to go or not because we might confront transport problems and so on. I set my mind very clear and decided YES, WE SHOULD GO because I missed his Music Man I concert a few years ago and this time, I told myself, will never miss it again!
We reached Stadium Merdeka at approximately 7.00pm. We only got ourselves RM268's tickets so the distance of us from the stage wasn't really clear. Furthermore we couldn't really see the centre of the stage and the decoration of it. So I need to tell you guys first ah, no exclusive photos of the concert this time but I will try my best to narrate the entire performance of the night!
Photo source:
Joshuaongys.com
So this is the decoration of the stage which is the symbol of a "Treble clef" made by the dragon.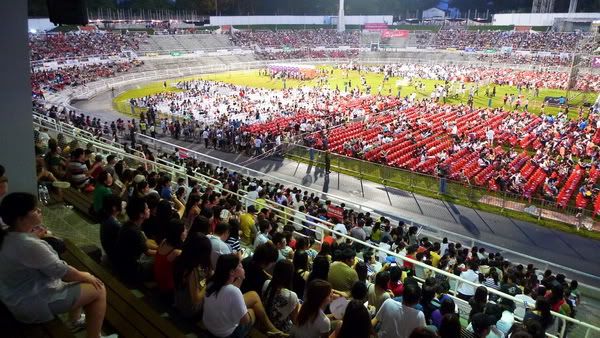 As you can see, Stadium Merdeka was swamped with 23000 people that night!!!!! Bravo!
Before the concert officially starts, a short video clip about LeeHom's saving a girl from a war was shown. And my friend agreed with me that this was actually the action of the Hero Saves The Beauty. :P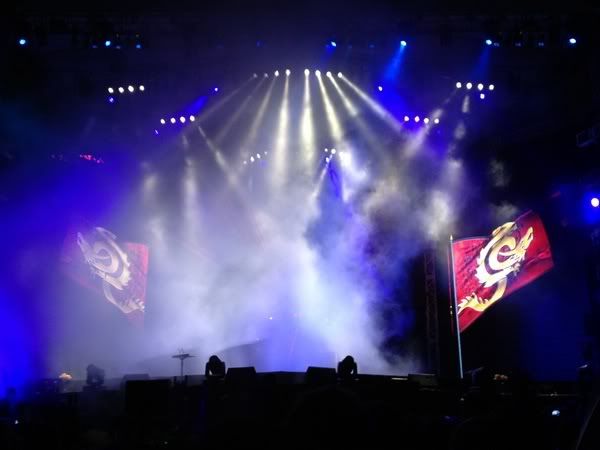 After all the light has turned off, here comes the exciting atmosphere and start to listen all the cheering and applause from the fans!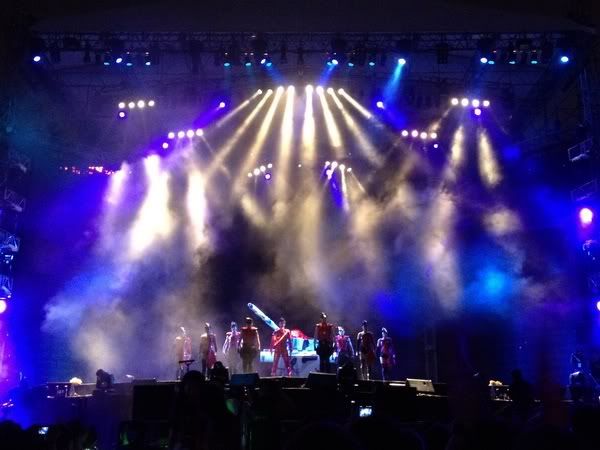 OMG coolest scene ever because they came out right after the video clip, like they jumped out from the clip to reality! And Lee Hom and the dancers were dressed in full red military costume!!
First reaction when my friend and I saw him, 哇帅到!( Wao, he's so handsome!)
The first few songs he performed were all fast tempo songs like
让开+火力全开+ Ya Birthday.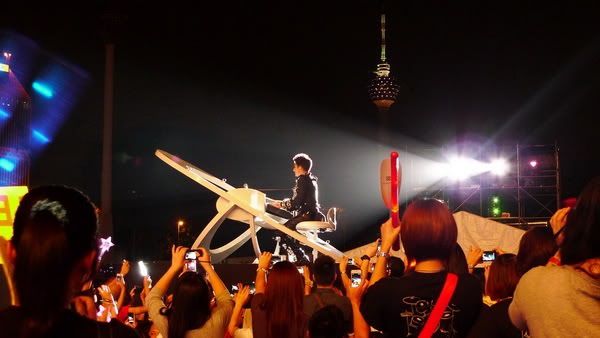 He played the piano and sang 你不知道的事. It was very surprising when a huge cube-thing carried him and the organ to meet the fans down there. Everyone went crazy when they see him passing by! I really love his slow tempo songs like 爱错,心跳 and 唯一. Apparently everyone there knows how to sing these popular hit songs!
This was when he performed his tenth songs, 美.
It started to drizzle that time but everyone was still very spiritual to enjoy in his performance.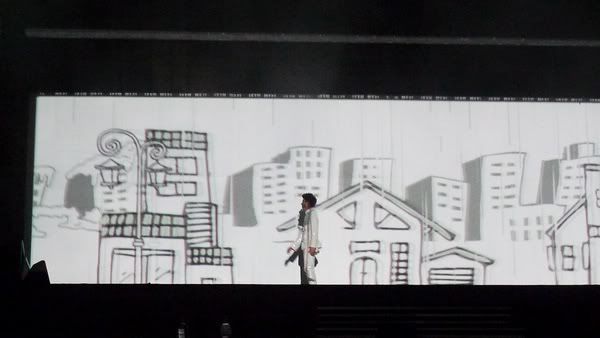 This was one of the interesting parts of the concert where a comical video was shown on the big screen and he moves as if he's inside the video. I really found this effect cute!
Get what I mean now? :D
Great, he's really a music man who plays various kinds of music instruments like Er Hu, piano, violin and guitar!
I love it more when he plays the violin. Damn charming! <3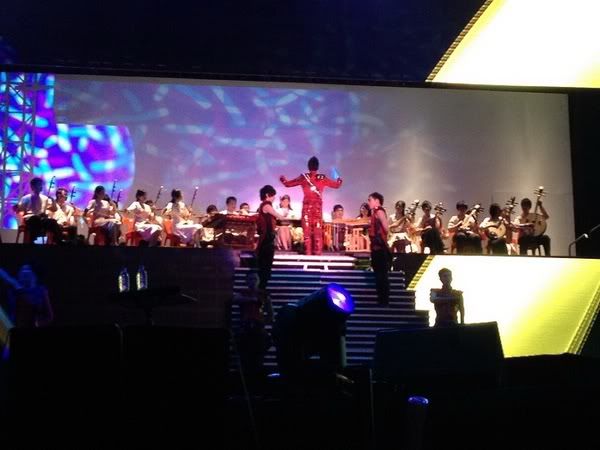 He was conducting the orchestra team. Great performance which amazed me!
He looked even great in white costume!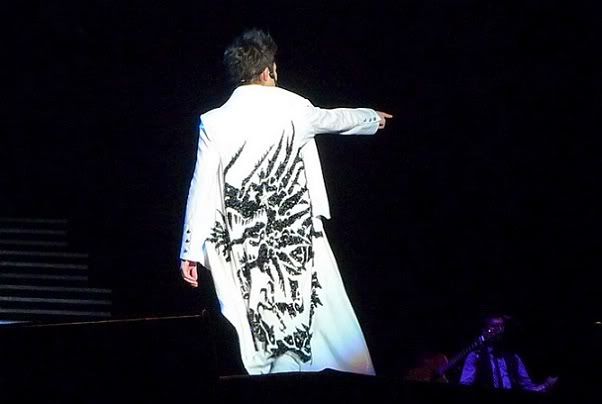 Specially designed costume with a "Dragon" behind.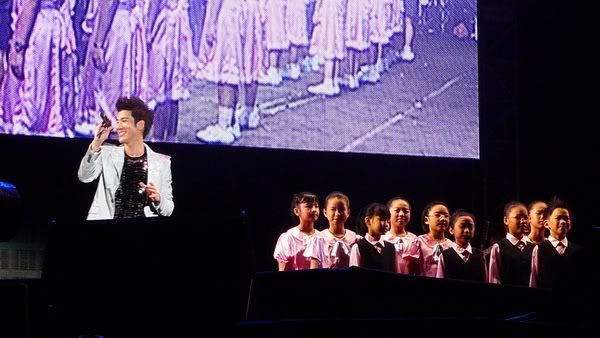 The choir team from SJK(C)Jalan Davidson was invited to perform on stage with LeeHom!!!!! And the little girl who was some kind like the main singer in the group did a very good job and even LeeHom praised her!
LeeHom said that this acapella medley should be everyone's favourite and I really love it! All my favourite songs were combined into one! (爱的就是你 + 我们的歌 + 第一个清晨 + 好想你 + Can You Feel My World + 白纸 + 爱你等于爱自己 + 你是我心内的一首歌 + 公转自转 + 不可能错过你) In this part, he also showed his humor by talking to his own reflection on the screen, like calling them to keep quiet and go to change their costume.
Here's one of the videos I found on youtube!! LOVE!
His assistant passed him some flower chocolates bought by fans to him and he instantly ate the chocolate ahaaa!
Despite the rain, he still performed devotedly! He also showed his affability when he said that he came here to have a shower with us and exclaimed that cleanliness is the most important thing in a concert haha! Then he opened his mouth and pretended to drink the rain water.
Rocker!!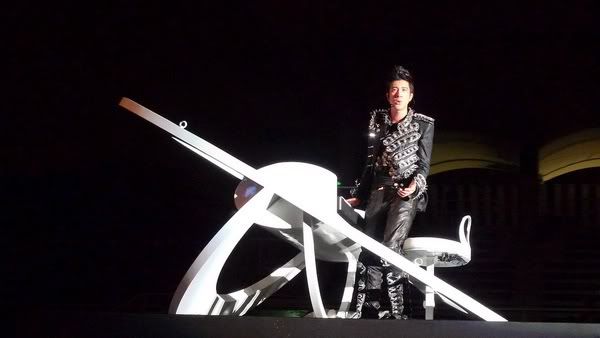 Apart from the first reaching out with fans in the first part of the concert, he went on the platform and reached out to the fans in ALL ZONES, which means the platform carried him all around the field of Stadium Merdeka just to interact with his fans. Aww, this idea made me really touched because he showed his appreciation to everyone who attended to concert!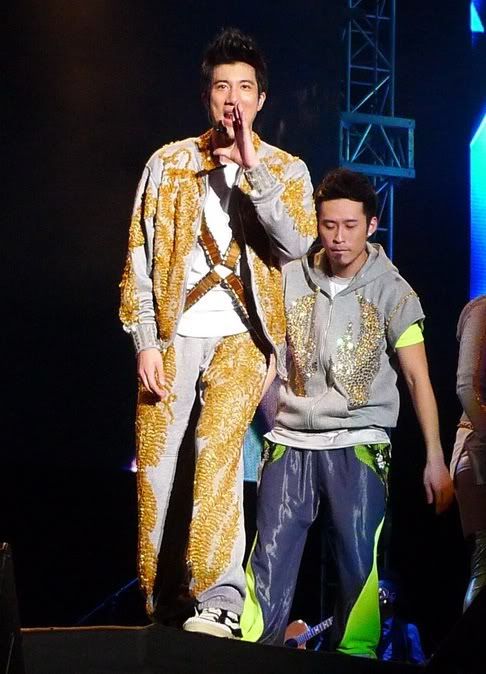 He also upgraded himself by dancing hip hop!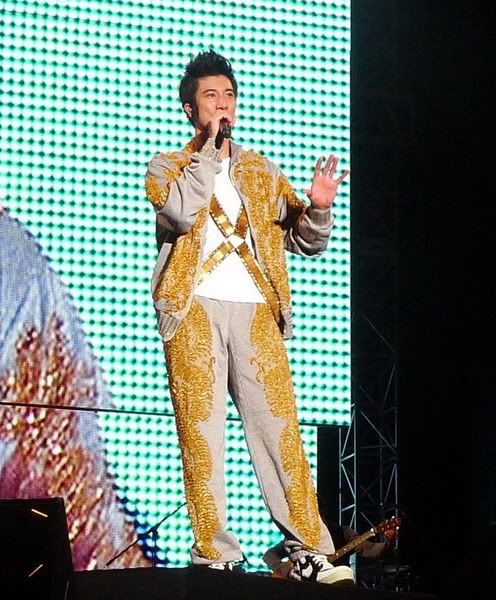 When performing the song 放开你的心,he interacted with the fans by yelling "I love you" in 4 different languages (Chinese, English, Korean and Malay lol!!!) He said that he had a special task to be completed in Malaysia, i.e. Record a video of him and the fans shouting "Saya cinta padamu" and upload it to Weibo. Cute when he said, "Let us now do one time rehearsal okay?"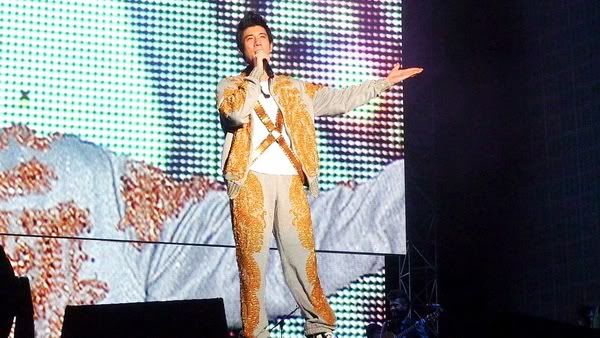 Before the sang the last song "Kiss Goodbye", everyone was so reluctant to leave the concert and said "Noooo!" Then he said, "It's okay that you don't want to kiss me, but please at least say goodbye!" And he pretended to be sad and cry hahahaha!
At last, he ended the concert with the song 火力全开 once again! Then we watched him walking back to the backstage..........Bye LeeHom. ):
This concert was actually kinda long as LeeHom keep on asking the fans whether we want him to do encore or not haha! Although the rain did annoy me a bit that night, this concert is still nice and enjoyable for me. Of course, I really love it when I listen to him singing the old songs live. One of the regrets is, why didn't he sing 依然爱你...I was looking forward to that song anyway. T__T
曲目:


让 开+火力全开+ Ya Birthday/ 龙的传人/ 十八般武艺/ 唯一/ Dragon Dance/ 你不知道的事/ 爱错/ 心跳/ Love Love Love/ 美/ Julia/ 落叶归根/ 在那遥远的地方/ 盖世英雄/ 在梅边/ 花田错/ 梦想被冷冻+ 改变自己/ 竹林深处/ 爱的就是你+ 我们的歌+ 第一个清晨 + 好想你+ Can You Feel My World + 白纸 + 爱你等于爱自己+ 你是我心内的一首歌 + 公转自转 + 不可能错过你/ 一首简单的歌/ 不要害怕/ 手牵手/ 心中的日月/ Forever Love + What's Wrong With Me / Happy Ending

安可:完美的互动+放开你的心/ 大城小爱 + Kiss Goodbye/ 火力全开
Never regret attending the concert. Thanks LeeHom for giving me such a great experience of enjoying your music under the rain lol. See you next time!