Hello sweeties!
It's undoubtedly true that Korea Fashion has been a WORLDWIDE trend nowadays! Although there's no winter in Malaysia, we can still welcome and catch up with all the winter fashions in Japan or Korea! Beanie has become an extremely HOT PICK recently and today I'm showing you my new LITTLE DEVIL BEANIE!!
We always detest it when we have a BAD HAIR DAY. I mean, a bad hair day when you're going out!
SO WHAT CAN WE DO TO OUR HAIR ON A BAD HAIR DAY??!
Well, HERE COMES THE
BEANIE
TO RESCUE ME!
Adorable, isn't it?
You called it cat ears or little devil horns?
Okay let's see how it can help on a bad hair day!


I LOVE IT!
I personally think that it's a MUST-HAVE Hair Accessory during Christmas!
Feel like getting one already?
This Cute Little Devil Horns Beanie is available for pre-order now!!!
I'm wearing black color in all the photos. Guess what? There are more colors for you to choose!!
High quality, free-size and stretchable!!
1. Green (NOT AVAILABLE)
2. Neon Green
3. Hot Pink
4. Light orange
5. White (NOT AVAILABLE)
6. Purple
7. Red
8. Light Grey
9. Dark Grey (NOT AVAILABLE)
10. Black
Showing you some

pretty models wearing the beanie,
Cute Korean Model wearing this red beanie!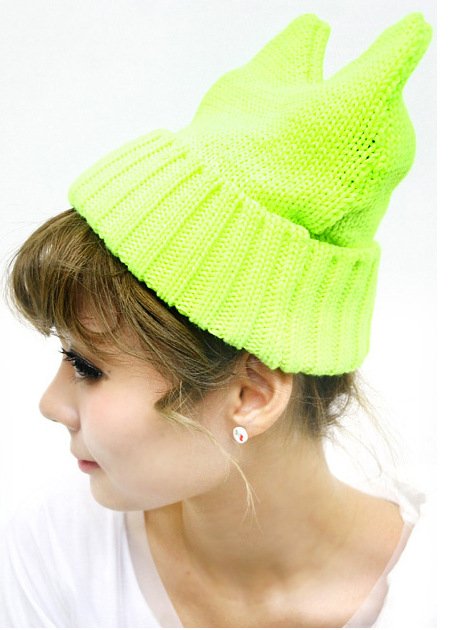 Neon Green.
For those who're interested in orderin

g it

from me, please email me Jessica_Chaw@hotmail.com or LINE me at JessicaC!
Pre-order ends on next Friday, 23/11/2012!

Order nao before it's too late! :D