Right after the Fashion Fabulous event, the girls and I decided to grab lunch and I seized this moment to suggest going to the place I always wanted to eat at - the Acme Bar and Coffee! We actually planned to take a cab there but surprisingly Povy offered to fetch us there instead. We literally went WHEEE lololol.
Catch Joanne the selca ninja. Always poking out of nowhere when i selca!!
Situated at the strategic spot which is highly noticeable, you don't have to merry-go-round to locate this restaurant. Sitting underneath a luxury apartment, "The Troika" somewhere near KLCC, this restaurant naturally gains a high-class status in the world of restaurants.
Well well no restaurant is regarded high-class for nothing! Let the simple yet well-designed menu do the talking :3
I personally adore this corner a lot!! A perfectly vintage vase holding a bouquet of purple flowers - I call that serenity..?
Say wassup to Baoer!! Those eyes are so adorable and big I wanna cryyyyyyyy T_T
And this is me. Say hi to me :3 So how do I look in this dress?
Little black dress from Topshop.
The interior deco is pretty eco-friendly haha, the windows (those at my back) gave enough illumination to the insides so they didn't have to turn the lights on! Just adequate lighting for selca (my main concern LOL)
Now isn't this view breathtaking?!! The tiles are emanating so much harmony :3 Just got to salute the interior designer!
Yeeeeeeeeeeeee~ *snap* The must-do's before our dishes are served ngek ngek :3
Japanese Salad! Rm29 Rich in all kinds of nutrition you need to stay healthy! Casey is on-diet so she ordered this. She complained about the excessive egg mayo sprayed way too generously over this huge portion :3
Povy's order: Farmer's Breakfast! Rm23
Spaghetti Bolognese! Rm 29. We all shared the dishes to try each of their tastes and I find this plate of spaghetti very delicious! Tastes so much like seafood and I simply can't get enough of this plate of wonder :3
One of the signature dishes: Smoked Duck Carbonara! Rm35. It's milky aroma permeates the atmosphere when this dish nears our table... You feel electrified when a spoonful of such creamy fantasy lands on your tongue! Tasty; not too salty.
Spaghetti and the Beast. Rawrrr :3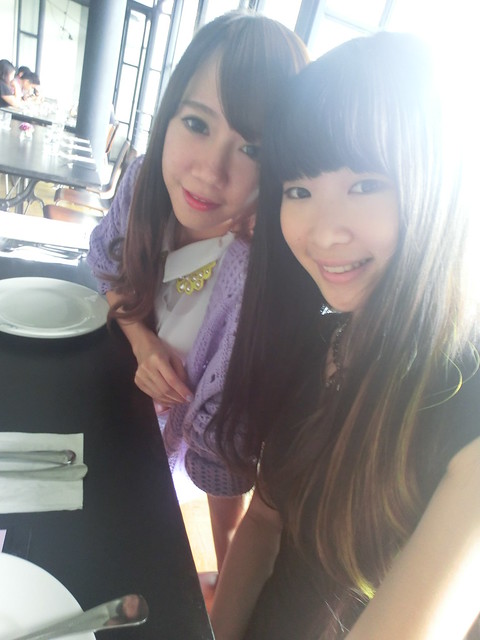 Joan and meeeeeeeeeeeeeeeeeeeeeee :3
THE BLOODY REASON WHY WE WERE THERE. Acme's Sizzling Brownie w/ Oreo Ice Cream!!! Rm19. Intelligently invented, this plate of dessert is specially made for dessert-lovers like ME. When the hot sauce showers upon the brownie, the sauce sizzles in the pan, allowing the fragrance of the brownie dance in the air while the brownie itself gradually becomes cripsy. It only takes one piece in your mouth to levitate you to the high heavens! ♥
One teeny weeny bit of upset: the petite portion :(
Selca: it's in the blood.
See what I told you?
More selcaaa!! Casey and I :3
By the way, this is the address of this restaurant:
The Troika Jalan Binjai, 50450 Kuala Lumpur, Federal Territory of Kuala Lumpur
03-2162 2288
If you're gonna visit this restaurant, be sure to try the signature dishes! (especially the brownie HAHA) They are sure to leave your tummy full and satisfied :D do tell me your opinions after you tried any of their dishes!
Have a nice day and bubyeeee ~♥