As much as I love monotone fashion, sometimes I do enjoy wearing vibrant and chic colours like NEON colours. I'm not sure whether you notice it, but YELLOW colour seemed to be the HIT colour this year.
Some examples of how people pull off the neon yellow trend:
Photo credits to Fox and Jane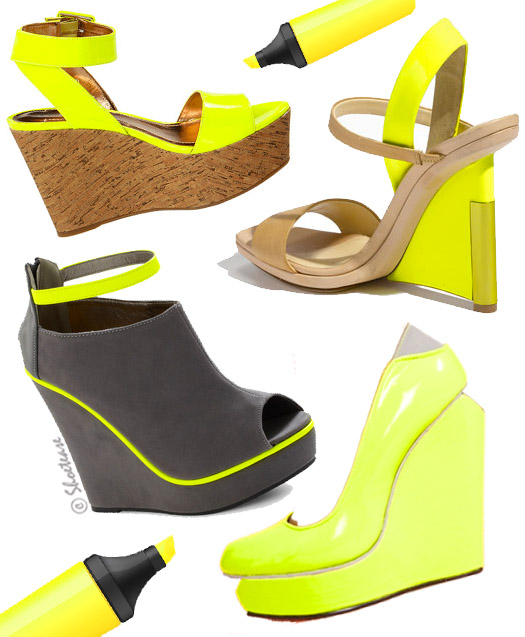 Amazing shoes in neon yellow!
My all-time favourite fashion blogger - Kristina Bazan. SHE IS PERFECT.
Alright, now it's my turn :D
Quite disappointed with the lighting here! :(
When I still had my colourful dipdye, I would MAKE SURE that I curled my hair before going out for shopping or photoshoot. Dipdye doesn't look really nice on straight hair. However, ever since I cut my hair, I became lazier to style it. There are days when I wake up with its naturally wavy style and I like it! Surprisingly my hair looks thicker and voluminous after I cut my hair! (But sometimes, I do have bad hair days T_T )
Anyway, back to the outfit I've featured today!
I matched my neon yellow knitwear with a pair of electric blue disco pants. I always wanted to get a pair of disco pants which fits me the best but too bad, I couldn't find my size anywhere. It's saddening that sometimes I couldn't even wear petite pieces from Topshop! But this pair of
high-waisted
disco pants (which I will be selling on
Bunnykisses
) suits me perfectly!!
The Neon Yellow Knitwear is also from
Bunnykisses
and there is only ONE piece left!! I am really satisfied with the material and it is such a comfortable piece to wear. Additionally, it is actually a cropped knitwear which definitely suits petite girls like me! :P
Details of my outfit:
Disco Pants - Bunnykisses_ (Open for pre-order)
Platforms - Bunnykisses_ (Open for pre-order)
Shades - Versace