Hello folks!!! First of all, I would like to apologise for not updating my blog. I've been away, and this dimension has been quiet for more than a week or so, I guess? But don't worry, I'm back from Tokyo, which means there will be a lot of exciting posts coming your way!!
For those who haven't already known, I traveled to Tokyo with my mum and aunt for 9 days (1st of March-9th of March). I actually visited Tokyo last May, which was pretty close to my recent trip lolol. I've always wanted to revisit Tokyo after my first trip because Tokyo really has A LOT to offer. Since I'm on a 3-month-long semester break, what reason is there to not travel to my favourite country once again?!
I've started planning for this trip since early February. I've done researches on where to go, where/what to eat, and where/what to shop! So I'm going to share them with all of you!!
In the previous trip, I've visited pretty much all of the tourist spots, such as Odaiba, Sensoji temple, Ueno, etc. So this time around, I wanted to spend more time on exploring places that I love, a prominent example being Harajuku. Harajuku is my ultimate favourite in Tokyo, and I'll tell you why in my upcoming blog posts!
Ok...honestly, I have no idea where to start blogging, but I guess I will first share with you guys about our stay in Keio Plaza Hotel!
WHERE IS KEIO PLAZA HOTEL?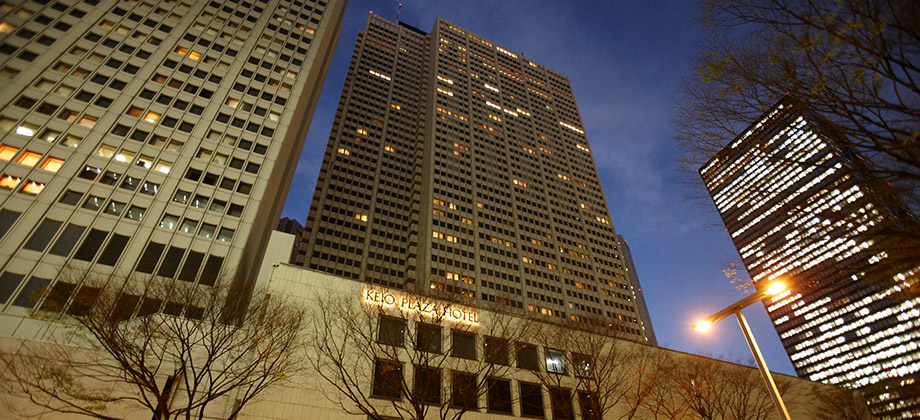 Shinjuku!
L
ocated in a very strategic location, Keio Plaza Hotel is surrounded by lots of restaurants, cafes, drugstores and most importantly, the subway station.
In Tokyo, the trains are your friend. You will rely on the trains a lot to travel around.
Address: 2-2-1 Nishi-Shinjuku, Shinjuku-Ku, Tokyo 160-8330 Japan.
(Keio Plaza Hotel also has other branches in Tama, Hachioji and Sapporo)
HOW TO ACCESS TO KEIO PLAZA HOTEL?
For more information on how to get to Keio Plaza Hotel, feel free to visit its
official website
!
TELL ME MORE ABOUT KEIO PLAZA HOTEL!
Being one of the biggest hotels in Shinjuku, Keio Plaza Hotel offers luxury and extreme comfort for its guests. There are a total of 1437 rooms with 10 different types of room, each catering to different needs: from standard rooms to luxury suites.
FREE Wi-Fi is also offered to all staying guests, which is totally awesome! Besides, a wide array of large-scale and diversified amenities are always ready for the guests, such as the Luxe Lounge (which I will explain further later), Sky Pool, Fitness Rooms, Authentic Japanese Tea Rooms, Meeting Rooms, etc.
IS THERE A HELLO KITTY ROOM IN KEIO PLAZA HOTEL?
A life-sized Hello Kitty welcomes you in the KITTY TOWN ROOM!
PRINCESS KITY ROOM
YES! Opened on November 1st 2014, Hello Kitty Rooms in Keio Plaza Hotel calls out to Hello Kitty fans all around the world! The Keio Plaza Hotel (Shinjuku branch) houses a total of 8 Hello Kitty rooms: 4 rooms in either the "KITTY TOWN" theme or "PRINCESS KITTY" theme. The Hello Kitty Rooms are 40.8 sqm/439.1 sqft large per room (which is pretty damn spacious and comfortable!)
I stayed in the KITTY TOWN room during my trip, but Keiko-san from Keio Plaza Hotel gave me the opportunity to visit the PRINCESS KITTY room too! For me, I think the KITTY TOWN room is more colourful and cheerful with a touch of pop-art while the PRINCESS KITTY room is romantic, calming and dainty! Which one would you prefer?
WHAT CAN YOU GET FROM STAYING IN THE HELLO KITTY ROOM?!
Premier check-in service
will be provided exclusively for guests who stay in the Hello Kitty room.
Hello Kitty Breakfast Room Service (only available in Keio Plaza Hotel Shinjuku). Keio Plaza Hotel really puts a lot of effort in making its guests' experience unique and worthwhile! This unique breakfast room service in the Hello Kitty theme is truly enchanting and unforgettable. Also, the portion of the breakfast set is super big and filling!
Complimentary Hello Kitty drinking water.


Complimentary lady's skin care set, Hello Kitty slippers, Hello Kitty pouch, toothbrush, razors, shower caps, comb, cotton sets
Complimentary Hello Kitty pens + clear file
Complimentary Hello Kitty postcards
Original Keio Plaza Hotel Hello Kitty doll!!! (Yes, you can bring this home!!)
OTHER AMENITIES IN THE HELLO KITTY ROOM?
Humidifier
Weighing scale in Hello Kitty design
Hello Kitty dustbin
Kettle + Complimentary Japanese green tea + coffee
OK. NOW TELL ME THE RATE!
To celebrate the 45th anniversary of Keio Plaza Hotel, they are now offering a special accommodation plan, whereby the rate for a Hello Kitty room starts from only JPY 24,800/night (which is around RM 899) including breakfast room service!!! (Original price: JPY 48,000/ night)
MORE PICTURES OF OUR ROOM:
I really enjoyed my stay in the KITTY TOWN room in Keio Plaza Hotel. It's super comfortable, really spacious and makes you feel like you are home. Waking up to such a perfect room really puts me in a good mood every day. Thank you Keio Plaza Hotel for such an amazing experience!!! *tears of joy*
For more information about Keio Plaza Hotel, kindly visit their website:
Stay tuned for my next blog post about my first Japanese fine dining experience in Tokyo!
Meanwhile, a new vlog is up on my Youtube channel!!!!!! WATCH IT NAO!!! :P