Since I was a kid, I had always been dreaming to visit Europe someday in my life.
At the age of 22, I made dream come true, with my own hard-earned money. I am not sure about you, but being able to visit Europe has always been a huge thing for me (because it could or would cost a bomb since I'm not sponsored by anyone lol). I have never visited any countries in Europe before and it felt so surreal that I'm currently typing this blog post here in Netherlands. I booked my flight tickets to London in June this year, and even tagged my mom along. Actually if it wasn't for my LDR-boyfriend (who resides in Netherlands), I wouldn't have visited Europe this soon haha!
There's something I really wanna say though - planning for Europe trip is NOT EASY at all. It stressed me out so much because I had such a hard time planning for intercity trips. I was so unsure of everything (such as the travelling date / time) and I was like fxxk it I'm just going to go with the flow (which turned out to be the worst thing ever because I spent so much unnecessary money on last-minute flights). To be honest, my planning for this trip was really bad, so I'm sorry that I wouldn't be able to share with you guys a comprehensive itinerary this time! :(
However, I will include pictures of the places I'd been to during my trip and hopefully you guys will enjoy them!
After meeting up with my boyfriend and his cousin, we headed to Oxford street via the underground train. Transportation in London is really convenient and easy (just use Google Maps to navigate around yo). Oxford street is a popular shopping district in London, with more than 300 shops including designer outlets, department stores (Selfridges is a really popular one in London), restaurants, etc.
Mandatory shot with the iconic red telephone booth. :P
Outfit details
Bakerboy hat - Forever 21
Pink jacket - Room8008
Rosewood sweater - Forever 21
Jeans - Bershka
Shoes - Gucci
TOPSHOP
The TOMMY HILFIGER collection in Urban Outfitters is omg.
We had lunch in a random restaurant in Oxford street and this chicken mushroom pie was not bad, but damn, £20 just for one chicken mushroom pie is a bit too expensive. T__T
I've seen soooo many pictures of this beautiful cafe on Instagram and I told myself that I MUST visit this cafe when I go to London. I couldn't help but squealed in excitement upon seeing this cafe right in front of me. Painted in baby pink, the entrance of this cafe definitely wins every girl's heart with its floral decoration.
We were lucky that we got a table outside (as it's a Insta-worthy spot lol). We ordered a pot of Earl Grey and Orange tea (which was really, really good) (£4.95 for two pax) and a Red Velvet cupcake (£5).
Always the happiest reuniting with this LDR bf.
#3 SKETCH (cafe)
Actually, I went to this cafe but couldn't try their food as we didn't make any reservation (super sad!!) So I just asked them whether I could go in just to take a picture lolol. Indeed, the interior looks stunning and artist-conceived. Online reservation as well as their menu is available on their
website
so make sure you book a table before you go to avoid disappointment (like me).
#4 LONDON CITY SIGHTSEEING TOUR: HOP-ON, HOP-OFF BUS TOUR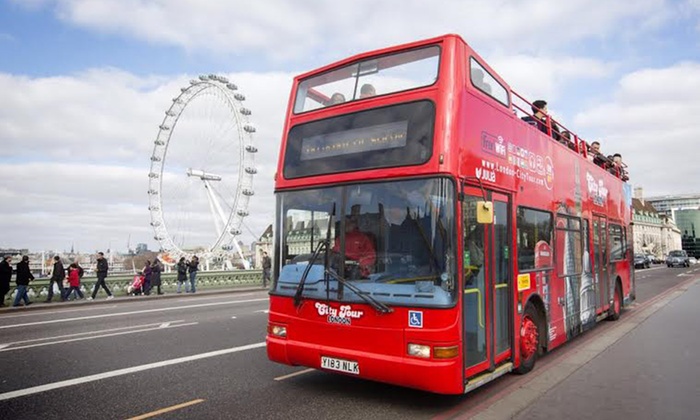 This is how the double-decker bus looks like! Image credits to Google as I couldn't take any pictures of the bus with the rainy weather! :(

Before my trip to London, I booked
London City Sightseeing Tour: Hop-on, Hop-off bus tour
from
isango!
Conducted on an open-topped double-decker bu
s,
this bus tour allows you to explore London in an interesting and educative way (as live commentary is offered on the bus) and visit major attractions in London such as Big Ben, London Bridge, Trafalgar Street, Buckingham Palace, etc and save on tubes and taxis! You can just hop on and off the bus at the well-placed bus stops and visit attractions of your choice. Besides, this package also includes a Hop-on, hop-off Thames Cruise and 3 walking tours!! Sadly, we didn't get to go on the Thames Cruise as it was raining. :( Nonetheless, I think this bus ticket is pretty worth it if you are visiting London for the first time! Check out isango for other London bus tours!
#5 BIG BEN
Honestly, the weather on our 2nd day in London SUCKED. The sky was so grey and gloomy and it was raining all day. How depressing! And to make things worse, the Big Ben was under renovation when I was there omg! I was rather sad because I couldn't take any nice pictures due to the bad weather. :(
#6 LONDON EYE
OK not gonna lie but this picture is edited like shit ok.
Gave up editing every picture so here's a picture of the grey sky.
London weather is the type of weather that you would still feel cold after wearing three thick layers, and it's not even winter yet!
Outfit details Hat - Forever 21
Jacket - Forever 21
Sweater - Forever 21
Jeans - Zara
Boots - Forever 21
#7 TOWER BRIDGE
After visiting London Eye, we hopped on the bus again and headed to the Tower Bridge. The Tower Bridge and London Bridge are actually two different bridges! Tower Bridge was built in 1894 and nope, it has never fallen down like the London Bridge 😂.
#8 BURGER & LOBSTER
I have heard so many positive comments about Burger & Lobster, and I finally got to try it myself in London!! There are several branches in London, and surprisingly, we got a table without having to queue at all.
For £23, you get 1 pound of lobster, steamed or grilled with a choice of clarified butter or B&L's famous lemon & garlic butter. All dishes come with chips and salad too. It's pretty decently-priced I would say.
We ordered the grilled lobster with lemon & garlic butter! To be honest, I think it was not bad, but not impressive enough for me to pay a second visit.

Honestly, we didn't get to visit many places in London this time due to the lack of time. We only stayed in London for 3 days, and on the third day, we had to catch an early flight to Netherlands so we didn't get to visit any place on that day. There are so many places that I want to visit in London, like Nottinghill, Shoreditch, Spitalfields, etc.

London, I will be back!

P.S. Comment and tell me where your favourite place is in London!