Hello there! This post is going to be about JEJU. As you may know from my Instagram, I just came back from a 5D4N trip in Jeju and here am I, documenting my journey and sharing with you my itinerary as well as travel guide in Jeju!
Before that, I would like to give a special shoutout to
KOREA TOURISM ORGANISATION Malaysia
(KTO Malaysia) for sending me to Jeju this time!! I was beyond excited upon receiving their collaboration email because I've always wanted to visit JEJU after hearing so much about this island - where people called it the "Hawaii" of Korea.
DISCOVER KOREA YOUR WAY
The reason why KTO Malaysia sent me to Jeju this time is because they would like me to help increase awareness for their
DISCOVER KOREA YOUR WAY (DKYW) Coupon Book
. So this coupon book consists a lot of
deals
which will definitely help you to save a lot on different aspects such as transport, hotels, activities, etc) during your trip (
not only
in Jeju, but in other cities in Korea as well). The DYWK coupon book can be redeemed for FREE if you're traveling to Korea from now onwards to 31st March 2019. Basically you just have to register and complete a survey in order to get the coupon book - click
HERE
for more info on how to redeem the coupon book.
GETTING CONNECTED IN JEJU
Internet connection is super important when navigating around Jeju!! Not only does it come in handy when you need to look up for routes, it also helps to keep you connected all the time because of its
unlimited
data. I booked this device from KLOOK and it costs only RM100 for 5 days, which is super affordable!! You can also share this device with your friends and family, so why not?!
BOOK YOUR 4G POCKET WIFI ON
KLOOK
.
I believe transportation is definitely one of your major concerns when it comes to travelling in Jeju. I would say SELF-DRIVING is definitely the best option, because transportation in Jeju is pretty limited (they only have taxi and bus). Self-driving allows you to travel at your own pace (super convenient, trust me) and it's actually pretty easy to navigate around with the GPS in car OR with the Naver Map app.
Where to rent a car in Jeju?
We reserved our car online from
Lotte Rent-A-Car
(with our DKYW coupon) prior to our trip. They have several car options and we went for the KIA Morning Compact. It's the smallest car and cheapest option in their list and it's definitely fuel-saving
(we only had to pump the petrol once throughout our trip).
Since I was only travelling with my boyfriend, we thought this would be the best option. I would totally recommend this car for those who are travelling in 2 or 3.
Important note: International driving license is required for self-driving in Jeju.

What is the cost of renting a car?
With the DKYW coupon, we managed to get 48% OFF from the regular price, which is such a great deal (do note that the discount varies on the season as well)!! So we paid 236,000 KRW (approximately RM880) for the car rental for 5 days in Jeju. I think the price is really reasonable!

How to pick up your car from the airport?
Right after you reach the airport, head towards Gate 4 and walk to a "car rental" area where you can board a shuttle bus for free to the Lotte Jeju Autohouse from the airport. You can then pick up your car from the Lotte Jeju Autohouse.
Naver Map App
Before the trip, I had a lot of concerns about navigating around Jeju. So many "What ifs" like
what if we get lost driving in Jeju? What if we couldn't find our destination? What if there's no place to park?
DON'T WORRY GUYS!! The pre-installed car GPS helps a lot and even indicates where is the nearest parking lot and gas station, but we also use the Naver Map App if we couldn't find the destination with the car GPS. The app is available to download for free on Apps Store and it's in English!
We stayed at 2 different locations in Jeju - we spent the first two nights in Jeju-si area (north and near airport) and the remaining two nights in Seogwipo area (south). It's highly recommended to stay in 2 different areas in Jeju if you don't want to drive back and forth after a long day (the distance from the north to south takes about 1 hour).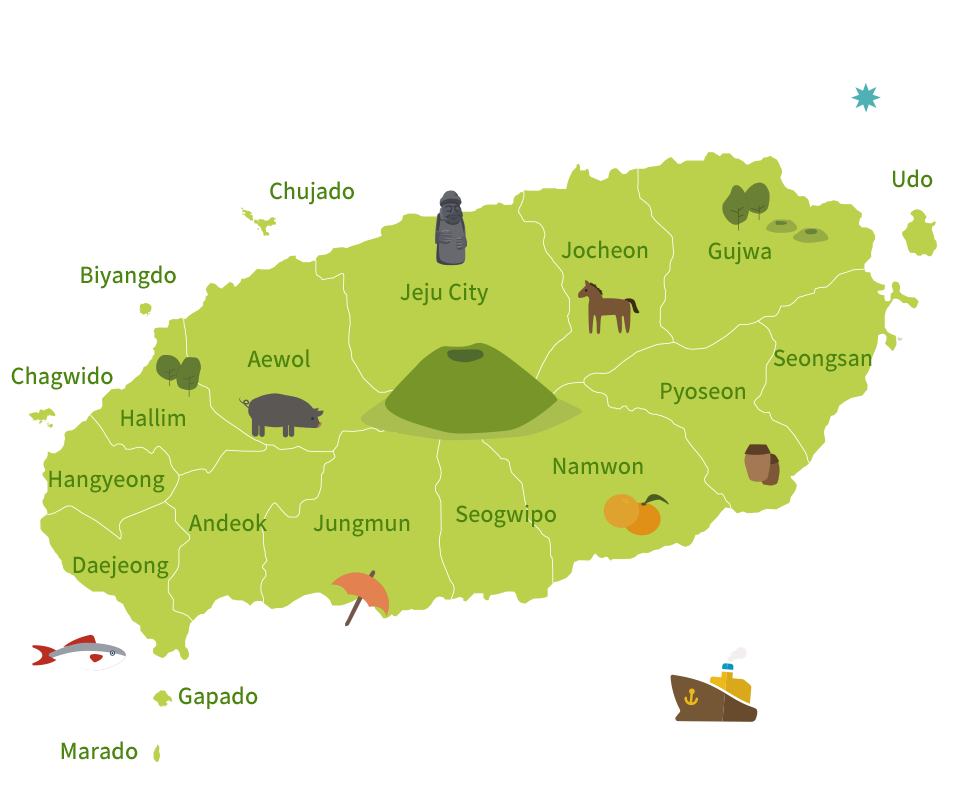 To give you a better understanding, here's a simple map illustration to show you the main areas in Jeju!
FIRST ACCOMMODATION (JEJU-SI AREA)
For the first 2 nights, we stayed in
AONE hotel
in Jeju-si area (north). Although it's a hotel, we actually booked our stay via Airbnb. Our room was really spacious with 1 double bed and 1 single bed and the bathroom is really clean and spacious as well!! Also, this hotel is also pretty affordable; we paid about
RM377 for 2 nights
including service fees.
LINK TO BOOK:
https://www.airbnb.com/rooms/20524847
SECOND ACCOMMODATION (SEOGWIPO AREA)
Moving on, I will be sharing with you my 5D4N itinerary in Jeju. This is just a guide for you to plan your upcoming trip in Jeju so feel free to slot in other destinations that you would like to visit (because surely, 5D4N is not enough to cover ALL attractions in Jeju!)
- Flight from KL to Jeju
- Cafe Monsant
Located by the sea, this cafe offers an amazing view of the sunset. The weather was also extremely good during our visit! Be ready to immerse in a vacation mood, and feel relaxed and refreshed!
- Dinner: Korean BBQ Black Pork (nearby Cafe Monsant)
- Hanwha Aqua Planet Jeju (use DKYW coupon for 20% off entrance fees)
Don't forget to watch the Ocean Aqua musical show and sea lion + dophin performance!
- Seongsan Ilchulbong (the view from the peak was definitely worth the 30-min hike!)
- Woljeongri Beach
It's really a nice beach, but it was too windy during our visit!
- Dinner: Seafood pot at 三姓穴海鲜锅 (Highly-recommended and reasonably-priced for the entire seafood pot!)
- Jimjilbang / Sauna
- Cafe Villa de Ato
- Cheonjiyeon Waterfall
- Jeongbang Waterfall
It's really a wonderful and refreshing experience being able to witness a majestic waterfall right in front of your eyes. I could even feel the water splashing to my face!
- Jusangjeolli Cliff (love an ocean view like this - a truly rejuvenating experience that refreshes your mind and body)
- Dinner: Korean BBQ Black Pork at Donsadon
A famous Korean BBQ chain and apparently it's GD's fav BBQ restaurant. However, we think it's really worth the hype as the black pork was really tender and juicy!!
- Play KPOP Museum (use DKYW coupon for 20% off entrance fees)
Learn about the history of KPOP and interact with your fav KPOP stars through the screen!
- Alive Museum (use DKYW coupon for 20% off entrance fees)
This museum closes at 9.30pm, so if you have nothing to do after dinner, perhaps give this Alive Museum a visit for some fun!
- Innisfree Jejuhouse
- Osulloc Tea Museum
Indulge in green tea goodness here! Absolutely enjoyed every dish!
Located in secluded area, this cafe can be quite crowded during lunch time! But it's really a beautiful and IG worthy cafe!
- Cafe Vadada
Love this cafe sooooo much because it offers a beautiful seaview with DJ playing live music and we really enjoyed ourselves there; the vibe was really great and relaxing though it's quite pricey, we paid about 40,000KRW for 2 burgers and 1 drink.
- Yellow Cafe
Cute interior and everything on the menu is Banana-themed!!
- Dinner at GOZIP
Found this restaurant through Google and it had a lot of positive reviews. Personally, it's not really up to my liking and I thought it was quite pricey, but my bf enjoyed it!
- Breakfast: Espresso Lounge
- Lunch: Sisters Noodle (famous but not my preference!)
- Return car to Lotte Jeju Autohouse
- Flight back from Jeju to KL
So that's all about my JEJU trip!! I honestly enjoyed it so much and Jeju is definitely a destination that exudes the "relaxing holiday vibe" perfectly, thanks to its beautiful beaches and lush greenery. This road trip is truly refreshing to my mind, body and spirit. There are actually many other places that I wanted to visit but didn't get to due to time constraint, so I really don't mind visiting Jeju for the second time for another holiday!!
Hope this post will help in planning your upcoming trip to Jeju and feel free to share this with your friends and family if you find it useful!